Stakeholders in the cocoa value chain believe that highly hazardous pesticides pose grave dangers to cocoa farmers, their families and communities in Ghana and across West Africa. In Ghana, pesticides are used by most farmers to boost and increase production of food and crop yields. However, research has shown that, over use and improper use of chemical pesticides are having adverse effects on the environment, human health, and social capital. The issue of pesticides came up strongly for discussion at a multi–stakeholders conference on the theme: "Human Rights and Environmental Issues of Pesticides Use in Cocoa Production Landscapes of Ghana", organised by Conservation Alliance International, SEND Ghana and INKOTA Network which brought together policy makers, academia, scientists and farmers to discuss how to address the consequences of over-dependence of some farmers on highly hazardous pesticides. In a communique issued, both state and non-state actors agreed that though pesticide use boosts cocoa production in the short term, the persistent misuse of pesticides adversely poses a great risk to the health of farmers and the environment in the long term. The stakeholders want government agencies and local authorities (MMDAs) to ensure that certified retailers sell only approved pesticides to cocoa farmers and that all actors on the value chain go through routine medical check-ups to reduce the health-related risk associated with contact with pesticides in the agriculture sector. These unapproved pesticides contain active ingredients classified by the World Health Organisation (WHO) as highly hazardous due to the dangers they pose to human health and the environment.
Effects
Speaking at the multi–stakeholders conference, the Executive Director of Conservation Alliance, Dr Yaw Osei-Owusu said, although pesticides helped farmers to produce safe and high-quality foods at reasonable prices, they have serious effects on human health and the environment. "This is the only reason we cannot continue to overlook the continued dependence of pesticides, especially the unapproved ones, any longer," he said. Project coordinator for INKOTA Network, Juliane Bing mentioned that many of the pesticides being applied on farms in Ghana and other neighboring countries have been banned in the European Union because of their grave dangers to human health and the environment, yet they are still being exported from European countries to Africa. "Pesticides such as chlorpyriphos, thiamethoxam or imidacloprid are used by cocoa farmers in Ghana and other West African cocoa growing countries to fight pests and disease on their plantations, why are they still been imported to Ghana and West Africa? she quizzed. Natural Resource Manager for Conservation Alliance International, Raymond Owusu-Achiaw explained that the use of highly hazardous pesticides in cocoa production also damage soils, poison water bodies and destroy biodiversity. "This can only be addressed with a collective effort of both state and non-state actors in Cocoa producing and consuming countries" he mentioned.
Alternatives
The Chair of the Ghana National Biodiversity Committee, Professor Alfred Oteng-Yeboah urged farmers to put a stop to the use of harmful pesticides no matter how effective they are in agricultural productivity. "We have done a lot of tests and found out that some chemicals are persistent on the environment after they have been used, therefore, we must stop using them. "The use of biological techniques was one of the most reliable ways to address the excessive use of synthetic pesticides in agriculture, particularly in the cocoa sector" he added. The Minister of Environment, Science, Technology, and Innovation (MESTI), Dr. Kwaku Afriyie in a statement read on his behalf urged farmers to seek more training, skills and knowledge in the usage and application of these pesticides. "I think it's time for CSOs to intensify their ongoing community education initiatives on the socioecological risks of using unapproved pesticides" he said. Country Director for Rainforest Alliance Ghana and Nigeria, Kwame Osei Boateng explained that the use of highly hazardous pesticides can be replaced by various alternative methods such as Integrated Pest Management, biopesticides and organic farming. "My research indicated that farmers often have little or no information about the adverse impacts of highly hazardous pesticides or alternative methods, or the financial means to access the less hazardous alternatives or even reluctant to adopt improved methods of production and this is the time they need our help and support in terms of education", he said.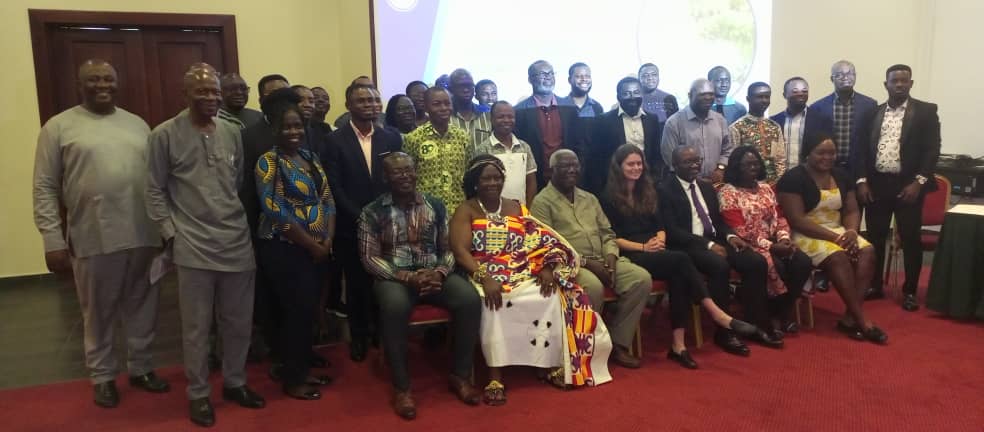 Stakeholders at the Conference
Proposal
The Stakeholders believe that the human and logistical capacity of agencies statutorily responsible for enforcement of laws and regulations in respect of the production, importation, supply and use of pesticides in the country should be strengthened immediately. "We want the Environmental Protection Agency (EPA), the Ghana Standard Authority (GSA), Food and Drugs Authority (FDA), Research, Academia, and the Ghana Health Service (GHS) should be strengthened" they mentioned. The stakeholders believe that Government in collaboration with the private sector should invest more into alternative pest control methods such as Integrated Pest Management, biopesticides and agroecological approaches in order to enhance their availability and affordability. "This may likely reduce the patronage of low cost unapproved and often highly hazardous pesticides on the local market" they added.