Asantehene Otumfuo Osei Tutu II says he will be collaborating with King Charles III to reclaim lands that have been destroyed by illegal mining activities in Ghana. Otumfuo disclosed this at the launch of the 2023 edition of the Green Ghana Day held in Kumasi today. He said he had a discussion with King Charles when he attended his coronation in London about land reclamation in Ghana. During the private discussion, Otumfuo said, King Charles accepted to collaborate with him to reclaim lands destroyed by galamsey activities in the Country. Otumfuo said his technical team together with King Charles' team will meet to formulate a policy to embark on the land reclamation.
Destroyed land by illegal miners
Asanteman intensifies fight against illegal mining
To show commitment to the fight against galamsey in the Ashanti Region, the Asanteman Task Force Against Illegal Mining in March this year went a step further by procuring some equipment and a vehicle to help monitor activities. The vehicle, a Toyota Double Cabin pick-up with registration number GN 8818-20, has the inscription, Ghana Responsible Gold Mining Summit, and a picture of the Asantehene, His Majesty Otumfuo Osei Tutu II. Otumfuo Osei Tutu II has been at the forefront of the quest to root out illegal mining (galamsey) from the country. He has declared 2023 an action year as he moves to protect lands and water bodies in his Kingdom from the activities of illegal miners. The Task Force will be playing a major role in this. To demonstrate his determination to tackle the illegal mining menace head-on, His Majesty has warned chiefs under his authority that any of them whose lands and rivers have been destroyed by illegal miners would be summoned for questioning and anyone who fails to provide reasonable explanation will be sanctioned to serve as a deterrent to others.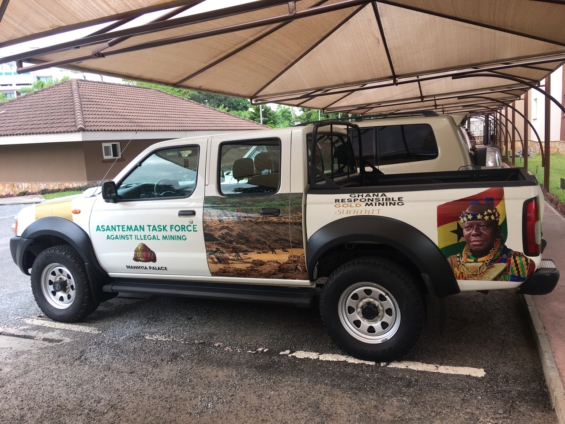 Vehicle acquired by Asanteman Taskforce to help monitor illegal mining activities
Background
In October 2022, the Asantehene, Otumfuo Osei Tutu II questioned the neutrality of his chiefs when dealing with illegal mining activities. He wondered why the chiefs under his authority have been silent and failed to voice their complaints about the environmental damage done by illegal miners, particularly to water bodies in their areas. "Have you ever informed me that your water bodies are being destroyed and your people can't get water to drink?," he quizzed when he addressed the Ashanti Regional House of Chiefs. The Asantehene's comments followed an appeal to chiefs by the Administrator of Stool Lands to help stop activities of illegal mining which have wreaked havoc on farmlands and led to the destruction of cocoa farms. Maame Ama Edumadze Acquah observed that the chiefs risk a decline of their share in the payment of revenue from stool lands since several cocoa farms have been destroyed by illegal mining activities. Infuriated by the observation, the Asantehene wondered how chiefs who have sworn allegiance to protect lands on his behalf have kept mute over the operations of illegal miners. "Are you not aware that people are using excavators to mine and destroy the environment, and that the government is struggling with the fight? You've sworn an oath of allegiance to be custodian of Essumenja, Asokore, as Asokorehene to be my representative. When you pass by galamsey sites with your cars and flags hoisted on them, don't you see the destruction?", Otumfuo quipped. The government has struggled with the fight against illegal mining.