Residents of Adafienu in the Ketu South Municipality of the Volta Region have consumed the carcass of a whale, which was washed onto the shores last Saturday. This was despite the warning given by the Fisheries Commission against consuming the carcass of the whale as it could not immediately identify the cause of its death. According to the Fisheries Commission in a statement, the Sperm whale was washed at the shore at Adafienu Landing Beach near Denu in Ketu South Municipality of the Volta Region. Two fishermen who spotted the whale revealed that, they first encountered the event at 1:30 am on Saturday while the whale was alive but very weak to escape. They said, at about 5:00 am the whale died as blood oozed out on the head and wound on the throat.
The carcass of the whale with a fork length of 9.50m and a total length of 11.10m had however been consumed by the residents of Adafienu and other surrounding communities. Speaking to ghenvironment.com, the Assemblyman for the area, David Anani Eglu confirmed that, the carcass of the mammal had been consumed by the people including residents of nearby communities. He said, the technical officers from the Fisheries Commission after visiting the beach advised against consuming the carcass because sometimes they habor some zoonotic diseases that can be transferred to humans.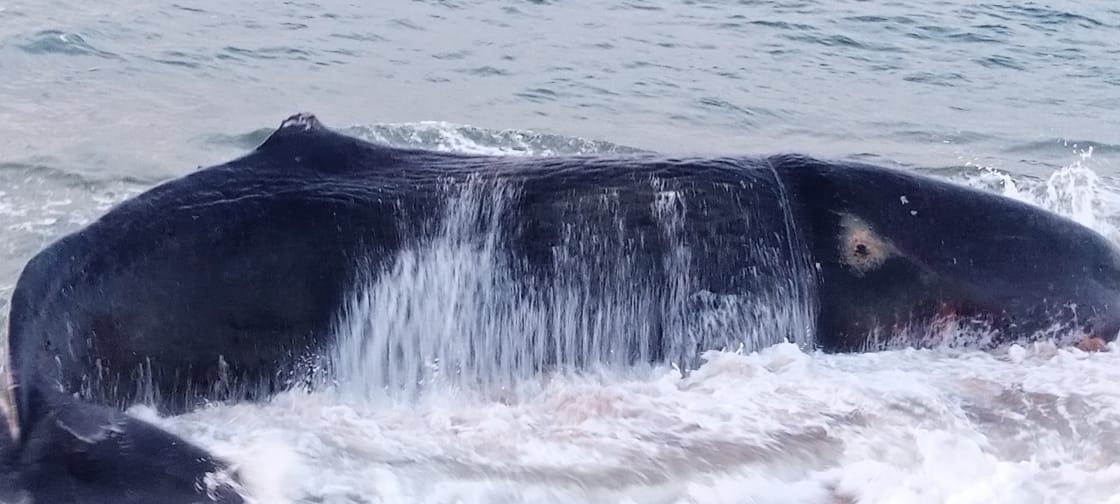 He said that, even before Environmental Health and Veterinary officers would come to ascertain the cause of death, the residents started consuming the carcass of the mammal. "What happened was that, one of the fishermen decided to cut some part of the meat and boiled it for consumption. After consuming it and nothing happened to him, the rest quickly followed consuming everything on site with the help of other communities," the Assemblyman narrated.