As part of efforts to make Ghana an exporter of rice, the Minister of Food and Agriculture, Dr. Owusu Afriyie Akoto, has appealed to investors in Thailand to come and invest in Ghana's rice sector. He said Ghana has huge potential for rice production which is evident in its favourable climatic conditions, availability of arable lands and an open society with a vibrant democracy. Dr. Afriyie Akoto made the appeal when a delegation of investors from Thailand, led by the Executive Chairman of the Jospong Group of Companies (JGC), Dr. Joseph Siaw Agyepong, and the Honorary Consul of Ghana in Thailand, Dr. Sicha Singsomboon, paid a courtesy call on him at the ministry on Friday, December 30, 2022. He said Ghana can boast of about 40,000 hectares of land readily available to support large scale rice production, hence encouraged the Thai investors to take advantage of it and invest in the sector. In addition, he assured the delegation of the government of Ghana's support for investors in the rice industry. "Our rice production is seasonal, and, therefore, we want action targeted at planting rice in April, May June, assuring that "we will make sure that land is made available to you," he asserted. He said it was his ministry's target to make Ghana self-sufficient in rice production, which has seen some significant gains. However, he added that more needed to be done to bridge the deficit. On this score, Dr. Afriyie Akoto charged the Thai delegation to bring an action programme to his ministry for consideration.
He asserted that the intervention by the private sector in the rice industry was very crucial, noting that it will help in the government's vision of commercialising the commodity. While commending Jospong Group of Companies for venturing into rice production, he maintained that he will continue to give Dr. Siaw Agyepong all the encouragement and support in his efforts to help the government address the food security challenge in the country. The delegation from Thailand also visited the Minister of Trade and Industry, Mr. Alan Kwadwo Kyerematen. According to Mr. Kyerematen, the government was fully committed to ensuring the successful implementation of the Ghana-Thailand rice project. "Government is fully on board in terms of providing the enabling environment and policy framework for this project," he said.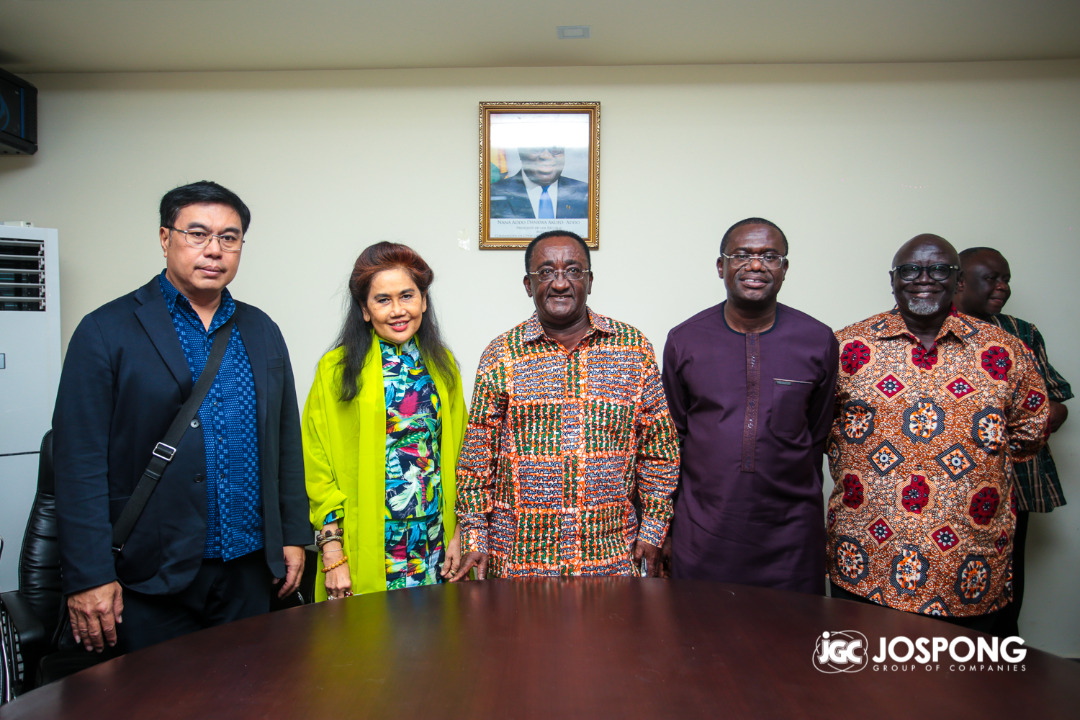 He praised the Executive Chairman of the Jospong Group of Companies (JGC), Dr. Joseph Siaw Agyepong, for venturing into rice production. He was very confident that the project will be productive and inure to the mutual benefit of both Ghana and Thailand. Trade statistics between Ghana and Thailand, he bemoaned, has not been encouraging, but stated that there was much that Ghana could learn from Thailand. Early in 2022, the JGC commenced its integrated rice farming project. And in showing the seriousness JGC attached to the project, a team led by its Executive Chairman, Dr. Siaw Agyepong, visited Thailand to understudy the Thai rice sector in order to replicate their experiences and strategy in Ghana. The object JGC was to partner with major rice industry players in Thailand to provide technical and equipment support for the entire rice value chain in Ghana with the aim of boosting rice production in Ghana.