The Eco Club at Fodoa Community Senior High School in the Kwahu West Municipality has introduced the green space solar-powered spraying machine. The machine developed by students and teachers of the school is intended to mitigate the impacts of climate change by reducing greenhouse gas emissions relative to the traditional fossil fuel power spraying machine commonly referred to as "motobrum". Named the FSP Eco-Sprayer, the prototype spraying machine will reduce stress and cost burden on farmers. The traditionally known sprayers employ fossil fuel for their operations which not only affect the environment but presents financial constraints on farmers. The sprayer is equipped with a USB charging port to power phones, radio sets, and torches on farmlands where there is no electricity accessibility. The multi-purpose machine can be carried easily at the back or wheeled when spraying.
The FSP Eco Sprayer can be used for irrigation, fertilizer application, pesticide application and weed control among others. President of Eco Warriors Movement, Otuo-Akyampong Boakye indicated that the FSP Eco sprayer would enhance farming activities while it advocates for climate action. "This machine will not only change the narrative of smallholder farming in rural communities but also contribute to the global call for greenhouse gas emissions reduction and the Paris Agreement," he said. He was astounded by the students and school's management's collaborative efforts in developing an eco-friendly technology for climate action. "A team of scientists and engineers from the Science Department and Management of the school contributed greatly to coming up with this invention. Their collective efforts are a wake-up call for us all to be involved in the climate action talks," he added.
Other projects by Fodoa SHS Eco Warriors
Smart Pavement Blocks Under the supervision of their patron, the club has also been able to fabricate pavement blocks using single-use plastics as a binding agent through a thermal process. The smart blocks as they are referred are produced by heating polyethylene and other plastic bags which are then mixed with fine granules of sand and moulded into desired shapes and sizes. The innovation aims to reduce plastic pollution which is a major environmental canker in Ghana. Tyre bins Conventionally, wasted car tyres are burnt indiscriminately contributing heavily to greenhouse gas emissions.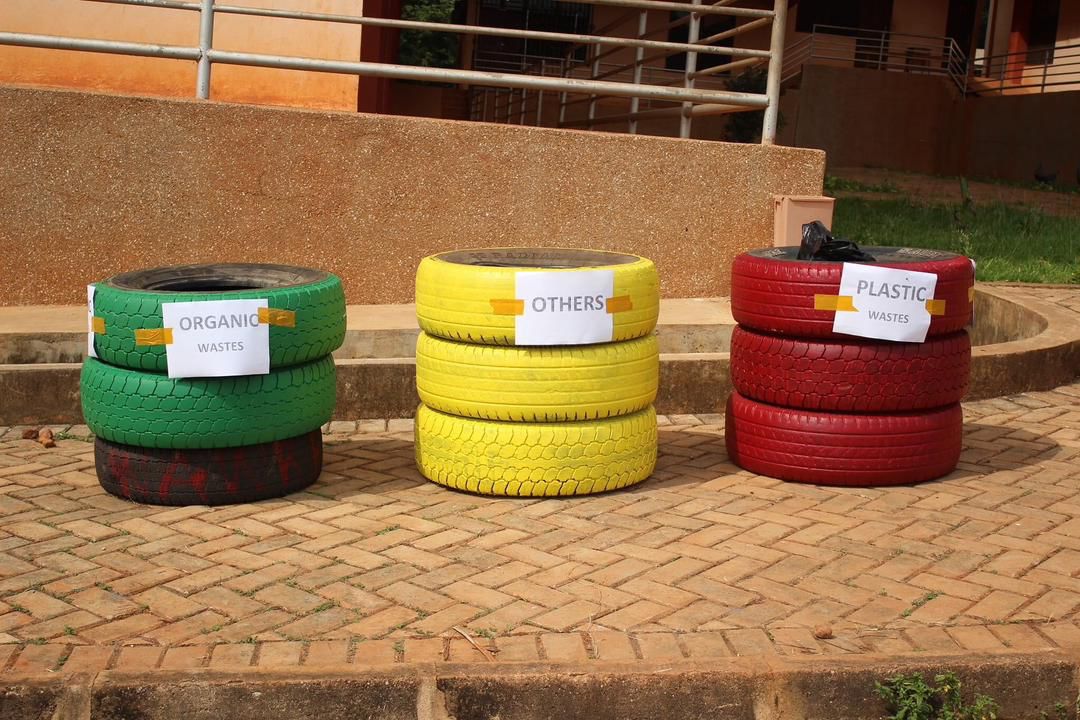 Tyre-bins by Eco warriors

But the club members have found a new purpose for the used-car-tyres by converting them into dustbins which helps in refuse segregation. The Eco Warriors Movement is a youth-led grassroots environmental movement advocating for environmental sustainability and climate action, ensuring that young people take centre stage in the call for restoration. The Eco Warriors Movement forms Eco clubs in high schools to educate students on environmental sustainability. The group presently has four clubs in high schools in both the Ashanti and Eastern regions. As part of the activities of the club, club members are expected to identify environmental problems in their community and work towards providing green solutions to the problem. The clubs undertake projects like tree growing, community clean-up exercises, environmental awareness campaigns, and storytelling, among others.