The Greater Accra Regional Minister, Henry Quartey has commissioned the Operation Clean Your Frontage Secretariat at Asylum Down in Accra, on Tuesday, 19th April 2022. The Secretariat, amongst other critical assignments, will see to the Operations, Evaluation, and Monitoring of the activities of the "City Response Team" Task Force on the enforcement of various by-laws. The Operation Clean Your Frontage by-laws make it obligatory for individuals and corporate bodies to be responsible for the cleanliness and greening of their immediate environs. "Persons and organizations that supervise filthy surroundings could be arrested and prosecuted under the new sanitation by-law," said the Greater Accra Regional Minister.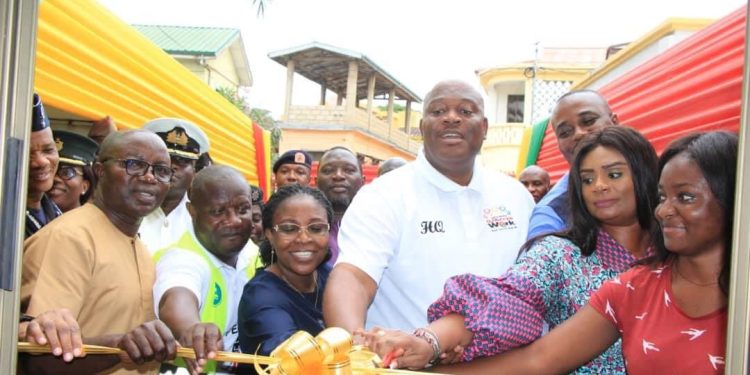 The arrest is expected to be carried out by members of the city response team taskforce whom, according to the Greater Accra Regional Minister, would be dispatched into the Central Business District and other key areas of the capital from April 26, 2022. The over 1,000 members of the taskforce undertook a one-month intensive military training at the Bundase military camp in March 2022. The personnel will assist the Operation Clean Your Frontage Secretariat to receive complaints from the public and relay them to various MMDAs in the Greater Accra Region for swift action. According to Henry Quartey, "the move forms part of efforts to deal with the sanitation situation in the city for a clean environment".
Speaking at the commissioning of the secretariat, the Executive Director of the National Service Scheme, Osei Assibey Antwi, assured of his outfit's preparedness to support the agenda with service personnel. MMDCEs in Greater Accra, and members of the Regional Security Council, Zoomlion, among others, were available to grace the event.
The operation clean your frontage initiative
The initiative follows the passage and gazetting of the bye-laws under the policy which are to be implemented by the 29 metropolitan, municipal and district assemblies (MMDAs) in the region. The policy is to make it mandatory for all individuals and organisations to take responsibility for the cleaning and greening of their immediate environments. The Greater Accra Regional Coordinating Council, as part of the initiative has engaged key stakeholders, including the clergy, heads of financial institutions, the media, market leaders, commercial drivers unions, among others, to make the programme, which is to transform Accra into one of the cleanest cities in Africa, a success.