President Nana Addo Dankwa Akufo-Addo has underscored the need for Ghana to make a systematic and conscious effort towards self-sufficiency. According to him, developing Ghana's self-sufficiency and its food security was one major challenge. However, he bemoaned the fact that a lot of money was spent on importing, especially foodstuffs, into the country. "We spend a lot of our money importing foodstuffs into Ghana, and it has been going on for too long. And I think now is the time that we are going to have to make this systematic effort to be self-sufficient and depend on ourselves for things that we eat," he said. President Akufo-Addo made the statement when he received a delegation of investors from Thailand, led by the Executive Chairman of the Jospong Group of Companies (JGC), Dr. Joseph Siaw Agyepong, and the Honorary Consul of Ghana in Thailand, Dr. Sicha Singsomboon, on Friday, December 30, 2022, at the Jubilee House, the seat of government. The delegation, who comprised some twenty (20) investors, were in Ghana to cement a Ghana-Thailand Rice Project being spearheaded by the JGC, and to also explore other possibilities of investing in Ghana's agriculture sector. The President expressed excitement at the partnership and collaboration between Ghana and Thailand in the rice sector. "Countries like yours [Thailand] and others have done it. And if you have done it, others can also follow and emulate your example. And I am excited by the idea of getting into bed with people who are known to have succeeded," he expressed. In learning from Thailand, President Akufo-Addo was upbeat that Ghana will be moving towards a system of agricultural inputs that will reduce its dependence on agricultural chemicals imported from countries such as Russia and Ukraine. "…and now we are going to be dealing with organic fertilisers, which is better for our soil, better for our pockets and generally as environmentally friendly and conducive than what we have been using up till today," he noted. "And if we are able to develop that here in Ghana, it will mean that we would not have to worry ourselves importing inorganic fertilisers from Ukraine and Russia so too much and be dependent on others," he said. He, therefore, tasked the Thai investors to endeavour to have some concrete understandings and arrangements with the various stakeholders in Ghana's rice sector and agriculture industry in general.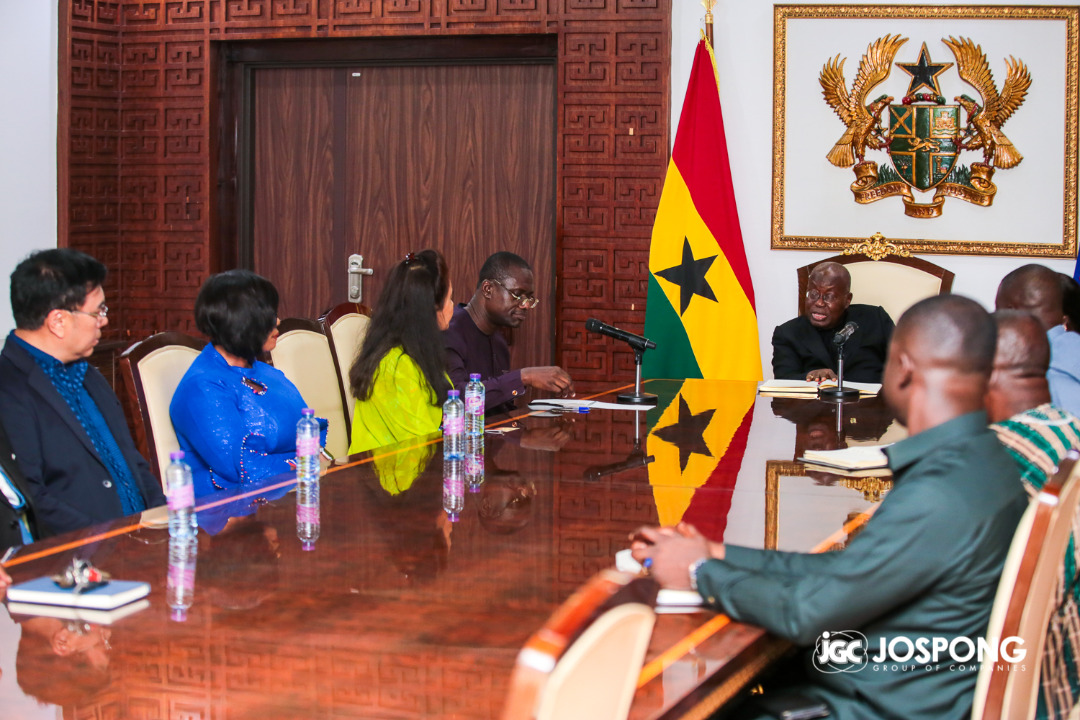 He explained that this would bring forth a roadmap on how the two countries will grow and develop this relationship. "But it is something that will be extremely beneficial to our country. We want to be able to work very closely with you to achieve our common goals. You have your new market to develop, and we also have our development that makes sense for our future. So let's hold hands and do something profitable for you and for us," President Akufo-Addo stressed. Earlier, the delegation paid courtesy visits to the Ministers of Finance, Ken Ofori-Atta; Foreign Affairs and Regional Integration, Ms. Shirley Ayorkor Botchwey; Food and Agriculture, Dr. Owusu Akoto Afriyie, and; Trade and Industry, Alan Kwadwo Kyerematen. All the four ministers assured the investors from Thailand of government's support to ensure that the Ghana-Thailand rice project becomes successful.
Early in 2022, the JGC commenced its integrated rice farming project. And in showing the seriousness JGC attached to the project, a team led by Dr. Siaw Agyepong visited Thailand to understudy the Thai rice sector in order to replicate their experiences and strategy in Ghana. The object of JGC was to partner with major rice industry players in Thailand to provide technical and equipment support for the entire rice value chain in Ghana with the aim of boosting rice production in Ghana.